EVOX Calypso / Space Ambient Generator.

EVOX_Calypso is an experimental sound, performance-oriented virtual musical instrument that is designed for creating cinematic ambient soundscapes, sound structures, and atmospheric and ethereal textures, as well as more traditional synthesizer sounds that can be layered to create a tremendous variety of spatial sounds. EVOX_Calypso sounds extend to unattainable distances, immersing you in unexpected worlds. The tool includes more than 128 ready-to-mix presets.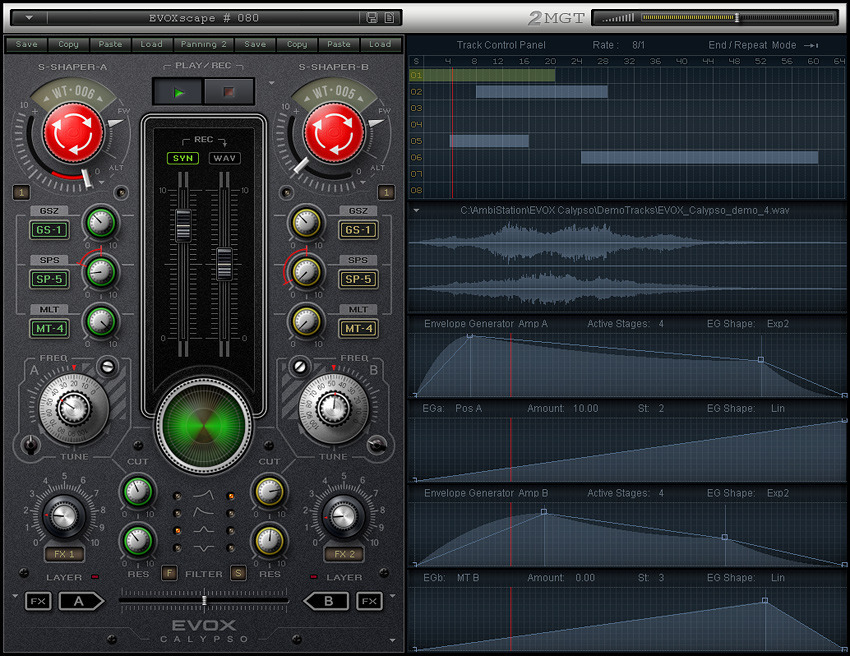 EVOX_Calypso is Free/Donate. The Free version has some limitations. A version available to supporters includes a package of additional presets for synthesizers, effects, and track models.
As an experimental synthesizer, it radically departs from standard type instruments and is meant to be used as a laboratory for the exploration of new sonic and timbral creations.
Since EVOX Calypso is designed to be an experimental synthesizer, it is advised that the user familiarize themselves first with the various controls and review the existing patches to see how they were created. Then it is a just a matter of experimenting with those controls and patches to see how many variations can be achieved. Playing EVOX Calypso is not like playing a conventional synthesizer, it does not have a keyboard and MIDI GUI like conventional synthesizers. Sound manipulation is carried out by built-in modulators and sequencers [ more ]
EVOX Calypso also has an 8-track sequencer with up to 64 steps for each track. Each track is essentially a separate synthesizer that can be recorded and played back in sync with the other tracks. Mini compositions can be made by merging these tracks together [ more ]
It is Free/Donate. No installation is necessary, and it works without problems in Windows XP and Windows 10 (32/64 bit). (EVOX Calypso is 32 bit.)